Grikol - The best de-icing product available on the market today!
The Environmentally Friendly Alternative.

With Grikol in the road surface you will get the following benefits:
Safer roads

. Treacherously icy roads are prevented and the 200% higher de-icing capacity gives you an ice–free road surface from 0 to -6 degrees Celsius. Wild animals are not attracted to the salt along the roads as with regular road salt.
Environmentally Friendly

. With Grikol you will get 75% less salt pollution compared to regular salting. Grikol also binds up the free chloride ions.
Less corrosion damage

on vehicles and corrosion-sensitive road foundations thanks to less salt-emission and because of the 36% less corrosion damage that Grikol causes compared to regular road salt.
Lower maintenance costs

thanks to decreased salting/sanding and decreased preparedness against icy roads and winter conditions.
There are two types of Grikol available.

One mixture for regular roads and one mixture specially developed for bridges and other crossings on which winter slipperiness occur much earlier than on the rest of the road. The later mixture contains an extra amount of corrosion inhibitors to prevent corrosion on the structures.
Grikol does not cause any damage to the pavement.
What is Grikol?
Grikol
is a new de-icing product which is developed by the Russian research and production–institute NPO ROSDORNII in Moscow.
Grikol
is a filler to the asphalt-concrete and consist of 80% Sodium chloride (NaCl), 10% Calcium Chloride (CaCl
2
) and 10%
Siakor
.
The unique part of
Grikol
is its component
Siakor
which is a silicon–organic, non-toxic, non-flammable -compound in powder format with a freezing-point of -50 degrees Celsius.
Siakor
is an inhibitor against corrosion and can also be used as a water rejecting, "anti-corrosion" substance.
Siakor
adds extra de–icing capacity to the chlorides and reduces the corrosion damage by binding the redundant chlorides from
Grikol
and by forming an insoluble compound of these.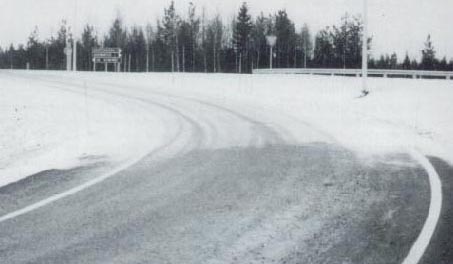 "- This new de–icing product works really well. The roadway has been nice and dry…" - Tore Engström, resident at Kvarnbacksvägen, Bromma
"- When I first heard about Grikol I was really sceptic but now when I have seen for myself how it works on winter roads I must say that it works surprisingly good!.." - Per Forslund, road engineer, Stockholms Gatu och Fastighetskontor Västerort.
Test road with Grikol in the road surface - Finland

Grikol ® composition and production technology is protected by European Patent.
© EEE&G Consulting. All rights reserved.